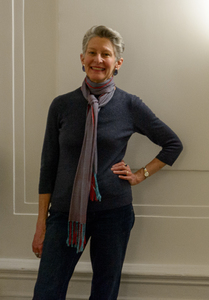 WILLA COX -- BIO
I was born in Montana and grew up in Hawaii. My first art class, when I was around age four, is also one of my first memories. I have been painting ever since. My grandparents lived near the ocean on Maui, and I spent many wonderful childhood hours beach-combing. As a teen-ager and young adult, I loved hiking in the mountains and swimming in the pools at the base of waterfalls. These experiences of nature in Hawaii remain important to me and are a continual source of visual inspiration.
Entranced by New York City (my first visit was in 1982), I moved there in 1983 upon receiving a Master in Fine Arts degree from the University of Hawaii. I worked in an Upper East Side gallery until, in 1986, I began my career at the Metropolitan Museum of Art. I managed the Registrar's art storeroom from 1988 through 2018, when I retired from the Met. I now dedicate all my energy to making my own work.
My husband, Jeffrey Saldinger, is also an artist. His website is jeffreysaldinger.com. Our home includes studio spaces, a print-making room, and a small garden. We live in Astoria, New York and enjoy our quiet neighborhood and the easy subway access to Manhattan.