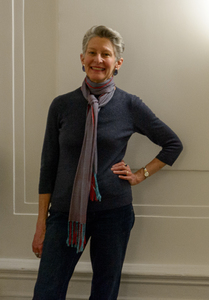 WILLA COX
I was born in Montana and grew up in Hawaii. My first art class is also one of my first memories, and I have been painting ever since. My grandparents lived near the ocean on Maui, and I spent many wonderful childhood hours beach-combing. As a teen-ager and young adult, I loved hiking in the mountains and swimming in the pools at the base of waterfalls. These experiences of nature in Hawaii remain important to me and are a continual source of inspiration.
Entranced by New York City (my first visit was in 1982), I moved there in 1983 upon receiving a Master in Fine Arts degree from the University of Hawaii. I worked in an upper-east-side gallery until, in 1986, I began my career at a major New York City art museum, where I manage the Registrar's art storeroom. Among many other aspects of my work, I especially value the daily opportunities to learn from the great works I see and the people I work with and meet.
My husband, Jeffrey Saldinger, is also an artist. His website is
jeffreysaldinger.com
. We were married in 1988. Our home includes studio spaces, a print-making room, and a small garden. To maximize the amount and quality of our studio time we decided in 1997 that it was a good time for Jeffrey to leave his job at a major New York City art library, a decision that has worked out well for us in expected and unexpected ways.